Tracks
1. GUSTAVO GUERRA (Guitar Idol 2008 Winner)
Track: Na Veia

29 / Curitiba, Brazil.

Gustavo has been a professional musician for 15 years. His worldwide recognition came through youtube with more than 7,000,000 of hits to date. He endorses several brands (Santo Angelo, Crafter, Nig Striwg, Landscape, Carvin, Basso Strap and Native Instruments) and through sheer talent, skill and stage presence, became Guitar Idol 2008!

www.gustavoguerra.com.br
www.myspace.com/guitaristgustavoguerra

2. LYLE WATT (Guitar Idol 2008 Runner-up)
Track: Swirly Strat Jam (Live from Guitar Idol 2008, London Excel)

15 / Thurso, Scotland.

Through a display of unbridled natural talent, Lyle was runner-up at Guitar Idol 2008. Lyle says, "I have only 3 interests in life - guitar, more guitar and even more guitar! I've been playing guitar since I was 3, but I've really only been playing seriously for the past 5 or 6 years, and I absolutely love it!"

3. DANIELE GOTTARDO (Guitar Idol 2008 Third Place)
Track: Guitar Sbrego (taken from the forthcoming album 'Frenzy of Ecstasy')

24/ Rovigo, Italy.

Daniele Gottardo took up guitar at the age of 14. His dedication to the instrument has won him many musical accolades and prestigious gigs with top pop singer, Alexia. His astonishing two-handed technique, dripping with heart felt emotion, has made him a sort after clinician and magazine writer. High quality instructional DVDs feature his trade mark incendiary licks and now Daniel is set to release his awesome debut CD, Frenzy Of Ecstasy.

www.danielegottardo.com
www.myspace.com/danielegottardo

4. BEN RANDALL
Track: Before The Rain (Rockschool's 'Most Promising Young Guitarist' at Guitar Idol 2008)

17 / Neston, England.

Ben was judged 'Most Promising Young Guitarist' at Guitar Idol 2008 and won £1000 from the national rock and pop exam board Rockschool. Ben had astonished the judges "with his level of technical virtuosity at such a young age, coupled with a level of phrasing beyond his years. For someone who has only been playing 3 years, it is nothing short of miraculous".

http://www.myspace.com/benrandallguitar

5. JAS MORRIS
Track: Revelation (from the album 'Thru' by the Morris Brothers Band)

22 / Newton Abbot, England.

Jas has been called such things as 'Future Guitar God'- Wishbone Ash and 'A Rock Legend of the Future' Planet Rock. Jas Morris began playing guitar at 13. Now 22, he has achieved such accolades as the 'UK's Guitarist Of The Year' in 2003 and now a finalist of the epic International 'Guitar Idol competition 2008'.

www.jasmorris.com
www.myspace.com/jasmorris
www.morrisbrothersband.com

6. GUSTAVO DI PADUA
Track: Second Floor (taken from the album 'The Stairs')

AGE: 30
ORIGIN: Rio de Janeiro, Brazil.

Gustavo Di Padua releases his first solo album, entitled "The Stairs" in 2008. Already praised by the critics, this exceptional concept album represents each important step of his life. Gustavo also produced and played all the instruments on this album. The guitarist and musical producer started his career when he was 14 years old. Today, Gustavo has an ample musical experience and continues playing with important bands and Brazilian artists.

www.gustavodipadua.com
www.myspace.com/gustavodipadua

7. MURIS VARAJIC
Track: Junk Medley

AGE: 28
ORIGIN: Sarajevo, Bosnia and Herzegovina.

A highly experienced musician, Muris often plays and tours in his native Bosnia, and Europe. In high demand as a session musician, he has won a number of international guitar competitions and recently released his Debut Album "Let It Out". Muris is currently working on his second album and teaches online at GuitarMasterclass.net.

www.murisvarajic.com
www.myspace.com/murisvarajic

8. PETCHALOV
Track: You're The Best I Know...

AGE: 37
ORIGIN: Pyatigorsk, Russia.

"I started playing guitar at 14. The first bands that inspired me to play music were Deep Purple, Led Zeppelin, Black Sabbath, PinkFloyd, Whitesnake, Rainbow and Dio... the world is beautiful!!!"

www.myspace.com/peterpetchalov

9. TOM QUAYLE
Track: Identity Crisis

AGE: 27
ORIGIN: Leeds, England.

Tom Quayle is quite possibly the next big thing in fusion guitar! Schooled in Jazz, with a love of all things shred, he produces a unique combination of great phrasing, sophisticated harmony, taste and technique. "It's all about the groove and the changes!"

www.myspace.com/tomquayle

10. CHRIS FEENER
Track: The Eccentric Hillbilly (taken from the forthcoming album 'Chris Feener')

AGE: 20
ORIGIN: Newfoundland, Canada.

"My drive for the guitar started at an early age, air-guitaring to Kiss CDs in the privacy of my own bedroom. A few years and countless hours of practice later, I find myself sharing my music with the world. Far above sharing music online, performance is what fuels my aspiring abilities."

www.myspace.com/chrisfeener

11. MARC PLAYLE
Track: Storm (taken from the album 'Europa' by Minnikin)

AGE: 22
ORIGIN: Gateshead, England.

Marc is currently lead guitarist in the rock band 'Minnikin'. Since being a finalist in Guitar Idol 2008, Marc has made appearances on Local and National UK TV and also had International TV recognition from Japan, Korea, Argentina and Brazil!

www.minnikin.com
www.myspace.com/minnikin

12. FERNANDO MIYATA
Track: Age (taken from the album 'Heavy Metal Instrumental' by Boneland)

AGE: 29
Origin: Poá Centro, Brazil.

Fernando has an arsenal of mind-blowing techniques and a genuinely new approach to tapping, all of which has been substantiated by his place in the Guitar Idol 2008 finals and having also won Guitar World's 'Best Youtube Guitar Video' in 2007.

www.fernandomiyata.com

13. MATTRACH
Track: Monophonic

AGE: 17
ORIGIN: Gommegnies , France.

"My name is Mathieu, I'm 17 and I've been playing guitar since I was 8. I started with electric guitar and moved into classical guitar two years later. I've just finished studying at the Conservatory and have been composing/writing music for two years. For me, music isn't a question of style, but feeling. I guitars, bass drums, synthesiser/keyboards, percussion etc and all my compositions are recorded in my room by myself. Music is my passion and my dream is to live it. I Hope you enjoy listening."

http://youtube.com/mattrach
http://myspace.com/mattrachguitar

14. MASAHIRO AOKI
Track: Spirits (taken from the album 'G5 2007')

AGE: 23
ORIGIN: Osaka, Japan.

"Hello, I'm a Japanese composer. I really love guitar and I love to write songs with it. This song 'Spirits' contains some complicated melodies, rhythms and harmonies, but simply cool I think. Please understand, I'm not really a guitarist but a composer. I hope you enjoy it."

http://www.vivix.info
http://www.myspace.com/masahiroaoki

15. SILVIO GAZQUEZ
Track: Far Away

AGE: 29
ORIGIN: La Plata, Buenos Aires, Argentina.

"I´ve been playing the guitar since I was 14 years old. I studied music theory in a local conservatory and the university of La Plata (Buenos Aires). In 2004, I achieved a 3rd place in the George Bellas´s contest and the following year I was mentioned for great work in Kiko Loureiro´s contest. I have several demos that I´ve recorded over the years, but I´m still looking for a record deal. Recently I shot an instructional DVD that will be available soon…"

www.silviogazquez.com.ar
www.myspace.com/silviogazquez


16. DENIS VLACHIOTIS
Track: Imperishable Ferocity (taken from the album 'Imperishable Ferocity')

AGE: 22
ORIGIN: Sydney, Australia

"I have an extremely large amount of love, patience, discipline and commitment for not just the wonderful instrument that the guitar is but playing, writing, and recording music in general. I would say my life has always and will always revolve around music in terms of constantly creating music from the heart and constantly growing as a musician."

www.denisvlachiotis.com
www.myspace.com/dvlachiotis


17. ANDRE NORONHA
Track: Never Give Up

AGE: 23
ORIGIN: Macaé, Rio de Janeiro, Brazil.

André started to play the guitar at the age of 12. Playing the guitar then became his goal and he has since played in many Rock, Metal and Gospel bands. He has studied with many great guitarists in his city and after winning the "Kiko Loureiro's No-Gravity Contest" in 2005 he moved to São Paulo to study at IG&T Brazil. He was selected for a Gibson contest in 2007 and then for the finals of Guitar Idol 2008 in London. André is influenced by Joe Satriani, Kiko Loureiro, Steve Vai, Eric Johnson, John Petrucci and many others. He is currently looking for an opportunity to record his solo instrumental album.


18. DIMITAR NALBANTOV
Track: Terrestrial Paradise (taken from the forthcoming album 'Mother Earth')

AGE: 31
ORIGIN: Asenovgrad, Bulgaria

"Hello guys! I'm Dimitar and I love to play guitar! My solo debut album "Universe" was released in November 2006 and now it is time for the next one "Mother Earth" due in autumn 2008. Let the music be with you… Dimi."

http://www.nalbantov.com
http://www.myspace.com/diminalbantov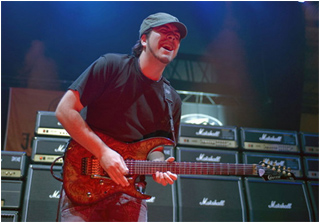 2008 Guitar Idol winner - GUSTAVO GUERRA

Guitar Idol 2008 was conceived as an online worldwide talent search to find the next generation of Guitar Heroes… and boy did it deliver! Already the biggest guitar competition in history, between March 21st 2008 and the Live Grand Final on June 14th 2008 almost half a million people visited, voted or entered the competition. On June 14th thousands of guitar fans witnessed 12 future guitar stars do battle with a crack live band on the main stage at The London International Music Show to be crowned 'Guitar Idol 2008'.

In late 2007 Alloutguitar.com, Licklibrary.com and the UK's Guitar Buyer magazine sat down and decided the time was right to launch a new international guitarist talent search – one that for the first time utilised the Internet, by having contestants upload their video or audio entries at www.guitar-idol.co.uk to then be voted and discussed by guitar fans worldwide. With the massive resurgence of guitar playing, from metal to blues to the new acoustic masters, we all thought this could be big… but not this big! Visitors to the website crossed all cultural and national divides – not only from the US and Europe but places as diverse as Nepal, Iraq and Siberia!
Finalists Gustavo di Padua, Gustavo Guerra and Fernando Miyata flew in from the 'new home of shred' Brazil, Peter Petchalov from Russia, Chris Feener from Canada, Muris Varajic from Bosnia and Daniele Gottardo from Italy. The UK was represented by Jas Morris, Tom Qualye, Ben Randall, the one-handed phenomenon Marc Playle and Lyle Watt, the 15 year wunderkind from North Scotland!
This CD is a celebration of the first in what will be an ongoing annual competition that could well dictate the future of virtuoso guitar playing! On this album are not only the 12 lucky finalists, but three other players who were invited to attend the finals but couldn't make the journey, as well as a further three who were so close to making the final dozen that we couldn't ignore their efforts…